Work Package Structure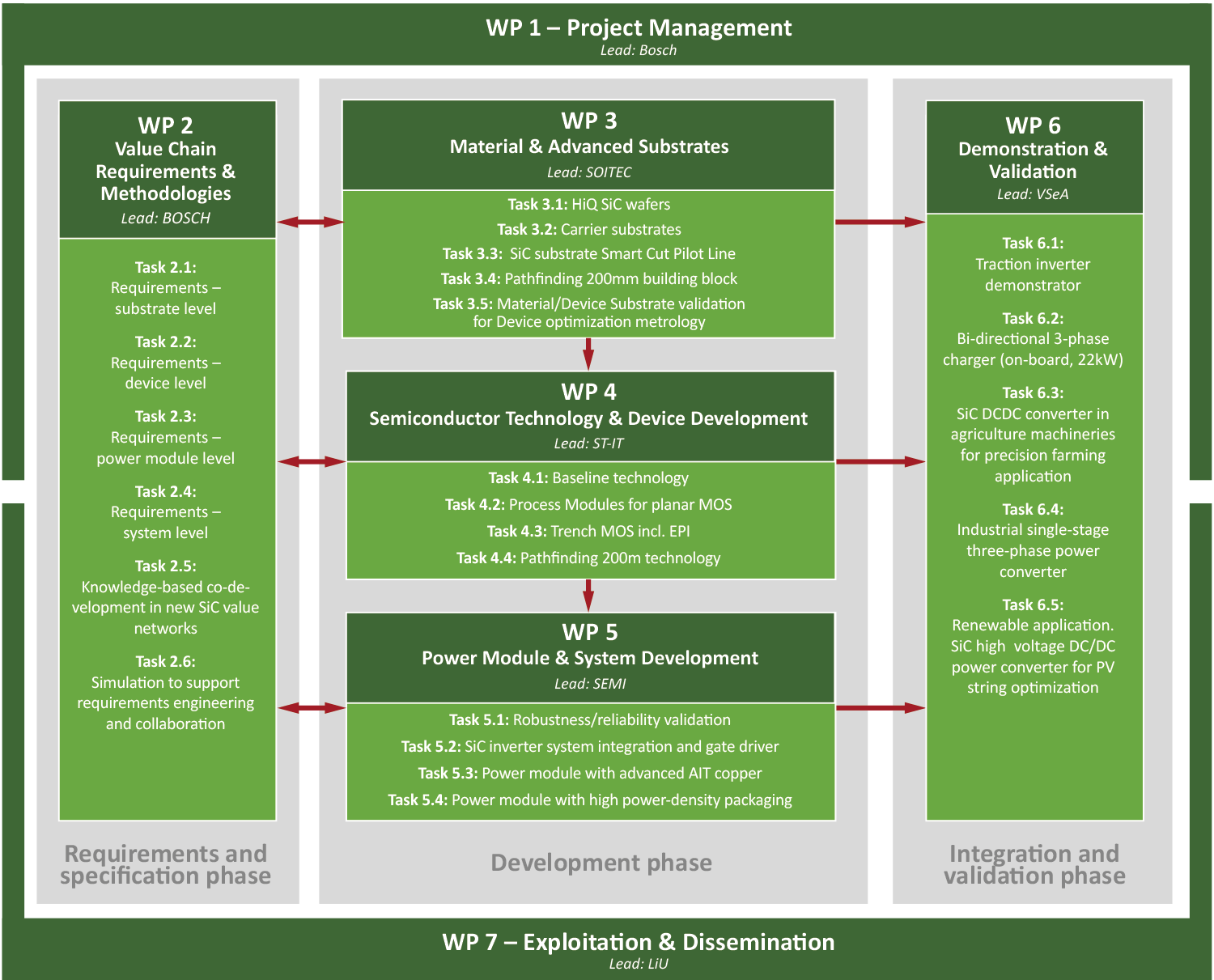 WP 1 – Project Management
Lead: BOSCH
Operational and administrative management of project. Overall technical roadmap, specifications and work packages coordination on the technical side.
WP 2 – Requirements
Lead: BOSCH
Requirements engineering, application of V-Model type development methods and simulations.
WP 3 – SiC Materials
Lead: SOITEC
Development, qualification and the industrialisation of SiC substrates based on Smart-Cut technology. Demonstration of process integration with 150mm diameter substrate extension to 200mm.
WP 4 – SiC Devices
Lead: ST-IT
Wafer level processing adapted to use advanced properties of Smart-Cut substrates and copper-based assembly and interconnection technologies. Device performance optimization in planar MOSFET and trench MOSFET process flows. Establish 150 mm know-how to move to 200 mm.
WP 5 – AIT and Power Modules
Lead: SEMIKRON
Packaging of SiC devices with focus on system integration, advanced interconnect technologies based on copper and high power-density packaging. Reliability evaluation of SiC power semiconductors.
WP 6 – Demonstration and Validation
Lead: Valeo Siemens Automotive
The results and demonstrators of WP2-5 will be integrated in application level demonstrators from various application fields ranging from mobility to renewable energies. Testing and validation will be performed closing the loop of the V-Model defined in WP2.
WP 7 – Dissemination and Exploitation
Lead: Linköping University
Dissemination of project results, exploitation strategies.